The Gift
Get the recognition you deserve with this great Laird of Kincavel gift pack! You'll own a small plot of land on the Kincavel estate, a feudal estate in Scotland along with official use of the title "Laird".
This is a great gift for anyone looking to become a Laird or just if you love Scotland.
The Gift Includes
You'll receive a welcome pack which includes:
• Become a Scottish Laird of Kincavel Gift Certificate
• Welcome Letter
• Local map of the area
• Information about Kincavel Estate
• Registration Form
• I'm a Laird grass coaster
On receipt of your completed registration form, your Laird title will be registered along with your unique plot. There's no need to provide the Laird's name yet upon ordering.
Delivery
Delivery costs to anywhere in Europe is included within the price above. Please allow 2-3 working days for delivery to the UK and 4-5 working days for delivery to anywhere else in Europe.
Lady of Kincavel
You can also purchase a Lady of Kincavel gift pack by
clicking here
.
Laird of Kincavel Gift Pack
Here's what you'll receive in your special Laird of Kincavel welcome pack!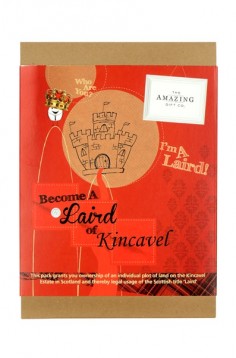 Become a...
Laird of Kincavel!
There's a whole range of different gifts available...
Click here to see them all!
Become a Scottish Laird of Kincavel Gift Pack