The Experience
You and your guest are about to enjoy the 'Sport of Kings' as a Racehorse owner, joining the ranks of Arab Sheikhs and The Queen.
You'll start your experience with an opportunity to view your Racehorse being trained and then meet with the Racehorse Ownership Manager and see your horse on the training track in the fresh early morning mist.
You and your guest will then enjoy either lunch or a full English breakfast and discuss the racing plans for your racehorse.
Part two will be a day at the races, where we can promise the adrenaline will be racing as fast around your body as your horse will be around the course. With a bit of luck, you will end the day as a winner!
Your Approximate Itinerary for Part One
- 10.30am arrival at training yard with tea, coffee and refreshments
- Introduction with your Racehorse Ownership Manager
- Meet your Racehorse
- Oversee your Racehorse put through its paces on the training track
- A delicious lunch
- Discuss the tactics and race plan with the Racehorse Ownership Manager
Your Approximate Itinerary for Part Two
- On the race day: arrival at the Racecourse in the Owner's & Trainer's Car Park
- Pick up your exclusive Owner's badge at the entrance
- Make your way to the Owner's & Trainer's bar
- When it's time for your horse to race, head into the Parade Ring, meet the jockey and go through the final race tactics
- The rest is down to the Horse and jockey - good luck!
Vital Information
Racehorse ownership guests should be at least 16 years old.
The Weather
As racecourses are exposed to conditions such as weather, bad weather may cancel or postpone the meeting so please call the location the day prior to the experience to ensure that the meeting is still going ahead as planned. Please note that any cancellations for one part of the experience will allow you to be rebooked in for that part only.
Session Length
Part one (available every last Saturday of the month): introduction to your racehorse - please allow up to 2 and a half hours. You are usually required to arrive 10:30 for meeting.
Part two (mainly available on selected weekends): a day at the Races as an Owner - most afternoon meetings are from 14:00 until 18:00 and evening meetings are usually 17:00 - 21:00.
Numbers
This Racehorse Ownership for two experience will normally take place with 4 other people during part 1. Part 2 will be at a racecourse and as such we cannot guarantee the number of people who will attend. Groups can be accommodated, so please let us know if you would like to book in some of your friends as well.
Spectators
This experience is for two people. Unfortunately, non-paying guests cannot accompany you into the racecourse. Guest passes are required to be pre-purchased. To do so, please contact us.
Dress Code
Most racecourses require a smart dress code when guests are entering special enclosures and gentlemen are advised to wear a jacket and tie.
Availability
Part one is available every last Saturday of the month whilst the second part is mainly available on selected weekends. Please note that this is an exclusive experience limited to 2-6 Owners on each session and that both parts of the experience cannot be enjoyed on the same day. Availability for part two is subject to your horse racing.
Location
The first part takes place in Liphook, Hampshire and the Racecourse for the second part varies and depends on the dates, but is likely to be in the South of England.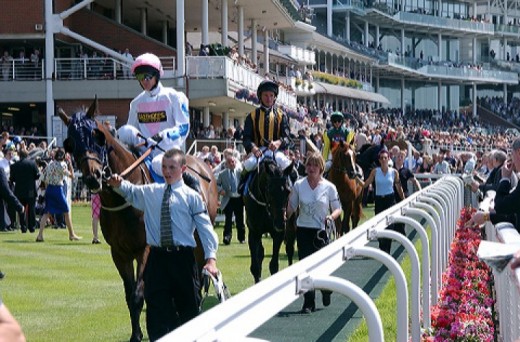 Racehorse Ownership for Two
Own a Racehorse with your partner, a friend or colleague and become part of the racing team! Visit your horse at the stables and watch it racing on the track!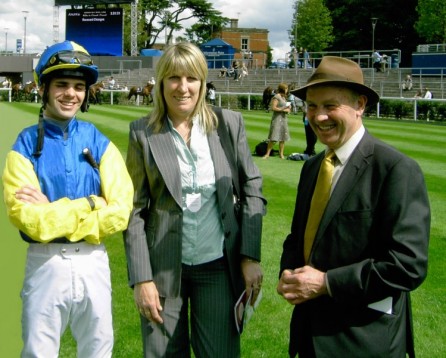 Racehorse Ownership for Two
Become a Racehorse Owner and watch your horse racing on the track together with a friend, colleague or partner.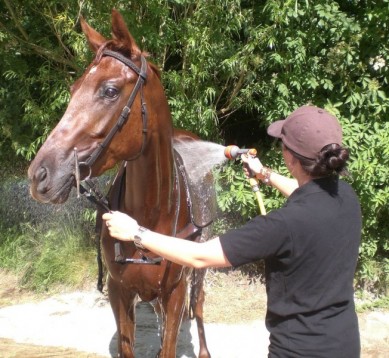 Own a Racehorse for Two
Become a Racehorse Owner for a day and visit the stables, talk to the manager and trainer and watch your horse on the track.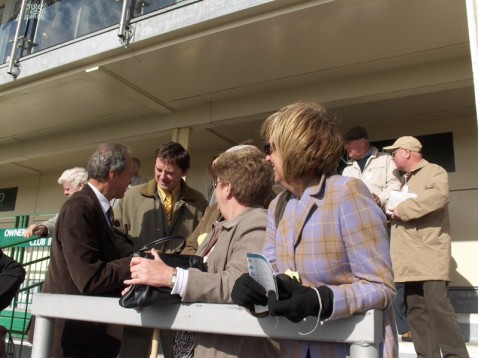 Experience the thrill of being a Racehorse Owner
Visit the stables and cheer for your horse from the Owners enclosure.
Racehorse Ownership for Two: Reviews
Epsom
Andrew and I would like to thank you for a fantastic day at Epsom on Sunday.
We really enjoyed the day and John and his daughter Rachel were perfect hosts.
We must do this again.
Michael H (03/10/14)
Excellent
My son and I went on the first part of the horse racing owner for a day experience last Saturday - we had a great day, Steve was excellent
Michael Harriss (01/09/14)
Great time!
We attended Salisbury Racecourse last Sunday.
We thought you would like to know that we thoroughly enjoyed the experience. In particular, we were very grateful for the assistance and information provided by John and his team.
We hope we meet up with them again on a future occasion.
Best wishes
Brian and Richard (09/05/13)
Racehorse ownership for 2
I purchased the horse racing for two gift package. I was delighted with the service and the speed of delivery. I will definatly be using this company again
Anonymous (22/04/13)
Yesterdays Stable Tour
I just wanted to say a big thank you for yesterday. We both had a lovely morning. It was a great tour, lovely pub lunch and really nice to meet you.
We cannot wait to go and watch 'our' horse run soon.
Paul and Angie (31/01/11)
racehorse ownership day
Steve was an excellent host and John Bridger and his staff were very open
in explaining about the horses they had running yesterday.
Denise and I would have no problems recommending your company for
people to find out bit about the other side of racing.
Thank you and very best wishes
Doug and Denise (31/08/10)
Ownership Experience for Two
Hi just wanted to say thanks for a fantastic day out on Thursday. Starwatch coming in First was fantastic, it made David's year. It's the best Christmas present ever. I will highly recommend this ownership
experience to everyone, whether or not they are into racing its still a great gift. Please pass on out thanks to everyone involved.
Tracey Jones and David Hill. (17/08/10)
Thank you GoHorseracing Ownership Manager
You were really helpful and assisted me in all parts of both days. I've already booked my friend in for an experience of her own and I really hope that she can enjoy it as much as I did!
Joan Price (14/04/10)
Racehorse Ownership Day
My husband and I enjoyed our Racehorse Ownership Day together last month and we had a great time meeting our horse and talking to our helpful ownership manager about the history of the horse and the tactics for the race day.
We're really looking forward to our day at the races part!
Mrs. Hart (22/03/10)
Racehorse Ownership for Two
We had a fantastic time beeing Owners. The stable visit was informative and entertaining. The manager gave us great information from the inside, talking about his time as an Owner and his races all over the world.
A great experience to get a feeling for owning a horse. We are now thinking about Owning a racehorse for a year...
Laura and Matt C. (16/06/09)
Racehorse Ownership for Two: Review