The Gift
Receive a package consisting of 12 bottles of the most delicious wines from Australia, Chile and South Africa and discover the flavours of these fascinating countries with your tongue. This unique journey will let you feel the South African, Chile, and Australian way of life without leaving home. Enjoy an unforgettable evening with your friends or highlight a romantic moment with this luxurious package of wine.

Your wine delivery will include 12 bottles from Chile and South Africa.

These bottles usually will be:
- 3 x Karu Syrah (Chile)
- 3 x The Flyboat Old Bush Vine Pinotage Shiraz (South Africa)
- 3 x CB Chenin Blanc (Chile)
- 3 x Monos Locos Sauvignon Blanc (Chile)
Vital Information
Customers must be over 18 years of age. If you have not received your order within 14 days, or if an order arrives damaged please notify us as soon as possible.
Delivery
Standard delivery to Mainland UK is included in the price of the package.
When you place your order, we will send the wine directly to the address you specify within the order. The package should arrive within 5-10 working days.
If you require a faster delivery, or delivery to outside of Mainland UK, then please contact our Sales Team to place your order.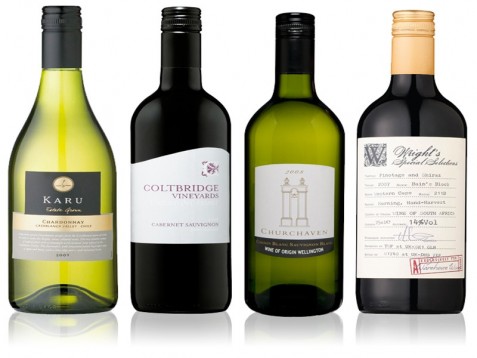 Wine Delivery - New World Mix Package
Your package of wine will contain 12 wines from Chile, South Africa and Australia. Taste the flavours of the new world with Golden Moments.

Wine Delivery - New World Mix Package
Churchaven Chenin Sauvignon Blanc
This is one of two wines you'll be receing in your wine delivery package from South Africa.

Wine Delivery - New World Mix Package
Wrights Special Selection Pinotage Shiraz
Our Wine Delivery New World Mix package also gives you a second type of wine from South Africa!

Wine Delivery - New World Mix Package
Coltbridge Limestone Coast Cabernet Sauvignon
This wine is specially selected from Australia.

Wine Delivery - New World Mix Package
Karu Chardonnay
Your wine package will contain three of these bottles from Chile.
Wine Delivery - New World Mix:
Wine Delivery - New World Mix: Reviews
Use the form below to be the first to review this experience.


Wine Delivery - New World Mix: Review
Wine Delivery - New World Mix: Availability
Wine Delivery - New World Mix: Fascinating Facts
The term vine was originally a term for the plant on which grapes grew, from the word for wine (Greek oinos), for which grapes were grown. In American usage "vine" is now a generic term for all climbing plants. In British English "The vine" is specifically the Grape vine ; other vines are termed "climbers". Climbing plants Certain plants always grow as vines, while a few grow as vines only part of the time. For instance, poison ivy and bittersweet can grow as low shrubs when support is not available, but will become vines when support is available. A vine is a growth form based on long, flexible stems. This has two purposes. A vine may use rock exposures, other plants, or other supports for growth rather than investing energy in a lot of supportive tissue, enabling the plant to reach sunlight with a minimum investment of energy. This has been a highly-successful growth form for plants such as kudzu and Japanese honeysuckle, both of which are invasive exotics in parts of North America. Conversely, there are some tropical vines that develop skototropism and grow away from the light, a type of negative phototropism. The vine growth form may also enable plants to colonize large areas quickly, even without climbing high. This is the case with periwinkle and ground ivy. Most vines are flowering plants. These may be divided into woody vines or lianas, such as wisteria, kiwifruit, and common ivy, and herbaceous (nonwoody) vines, such as morning glory. One odd group of vining plants is the fern genus Lygodium, called climbing ferns. Here, the plant's stem does not climb, but rather the fronds (leaves) do. The fronds unroll from the tip, and theoretically never stop growing. In the meantime, they can form thickets as they unroll over other plants, rockfaces, and fences.
Wine Delivery - New World Mix: Not sure yet