The Gift
Receive a wine delivery from the Old World consisting of the most delicious and classic Spanish, Portuguese, French and Italian wines and discover the flavours of these two fascinating countries. Enjoy an unforgettable evening with your friends or highlight a romantic moment with this luxury wine delivery product.
Your wine delivery will include 12 bottles from Italy, Spain, Italy and France.

These bottles usually will be:
- 3 x La Pasilla Tempranillo (Spain)
- 3 x Les Grands Chemins Old Vine Carignan (France)
- 3 x Araldica d'aria Piemonte Cortese (Italy)
- 3 x Vinazza Garganega Pinot Grigio (Italy)
Vital Information
Customers must be over 18 years of age. If you have not received your order within 14 days, or if an order arrives damaged please notify us as soon as possible.
Delivery
Standard delivery to Mainland UK is included in the price of the package.
When you place your order, we will send the wine directly to the address you specify within the order. The package should arrive within 5-10 working days.
If you require a faster delivery, or delivery to outside of Mainland UK, then please contact our Sales Team to place your order.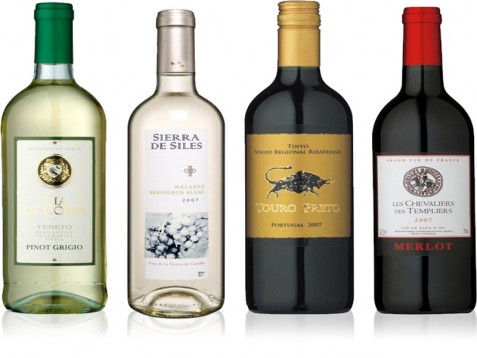 Old World Mix Wine Delivery
Containing 12 wines from Italy, Spain, France and Portugal, our Old World Mix Wine Delivery is ideal for a party or to add to your wine cellar.

Via Di Roma Pinot Grigio
You'll get three bottles of Via Di Roma Pinot Grigio wine included in your Old World Mix Wine Delivery.

Sierra De Siles Macabeo Sauvignon Blanc
You'll receive three bottles of this luxurious white wine from Spain.
Touro Preto Tinto
Our Wine Delivery Old World Mix will come direct to your door with three bottles of Touro Preto Tinto.

Les Chevaliers Des Templiers Merlot
Three bottles of Les Chevaliers Des Templiers Merlot is also included in your wine delivery package.